Obstruction Identification Surfaces
Both ArcGIS for Aviation: Charting and Airports provide a platform for government agencies, airports and commercial companies to ensure obstacles (buildings, cell towers, transmission lines, etc.), both existing and proposed, do not pose risks to the safety of flight operations. A number of standards exist that define obstruction identification surfaces (OIS) in both the United States and internationally, and are used to ensure the safe departure and arrival of aircraft.
ArcGIS for Aviation includes tools to create surfaces for the following specifications:
FAA Part 77
FAA Advisory Circular 150/5300-18
ICAO Annex 14
ICAO Annex 15
The tools can be accessed from the Aviation Toolbox within the Obstruction Identification Surfaces toolset. The OIS tools share a common interface that exposes the individual surface parameters. By default, the surface creation parameters are set to those defined by the applicable specification. You have the ability to change the default values for special circumstances or planning scenarios. Additionally, you can create individual components of a surface (e.g. only the approach or transitional surface) or create the surfaces in their entirety.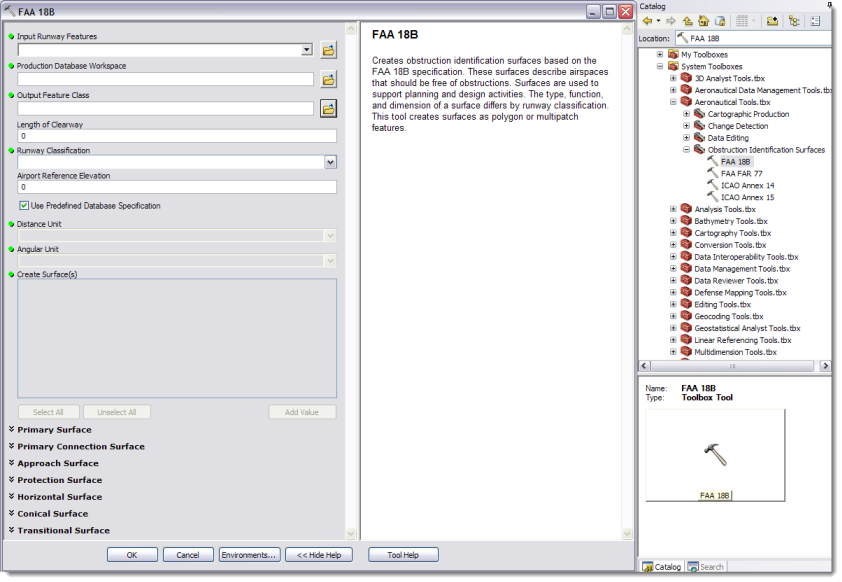 The OIS tools can be used on both the Aeronautical Information System (AIS) and airports data model. Available output formats for the OIS tools include shapefile, polygon or multipatch feature class, and TIN. Specific attributes values are populated in the appropriate feature class fields upon execution of the tools (e.g. the OIS Zone Type attribute in the airports data model).
All of the surfaces generated have x, y, and z values populated. While ArcMap renders these features in 2D, if you have the ArcGIS 3D Analyst extension you can use ArcGlobe or ArcScene for 3D viewing and analysis against terrain and obstacle datasets.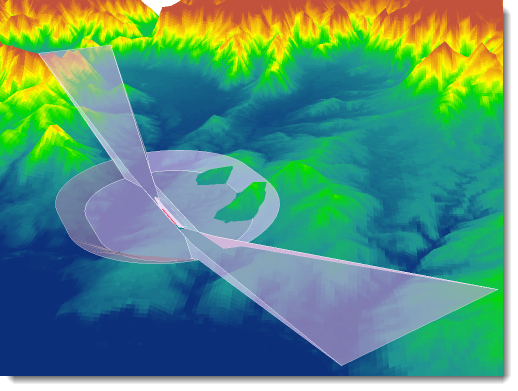 Product Templates
ArcGIS for Aviation: Airports provides four map product templates to include:
Airport Land: Depicts the airport extent and includes cadastral layers (parcels, land use, zoning, etc.) in addition to reference features and basic airport information (roads, runways, etc.).
Airport Overview: Depicts the airport extent and includes airfield information, obstruction identification surfaces, runway safety areas, and major infrastructure features.
Data Editing: Contains grouped layers of all the feature classes within the airports geodatabase. This template provides a map document (mxd) from which data can be created, edited, and maintained.
Runway Environment: Depicts the features surrounding an individual runway end. Features include airfield lighting, navaid critical areas, obstruction identification surfaces, runway markings, obstacles, and others.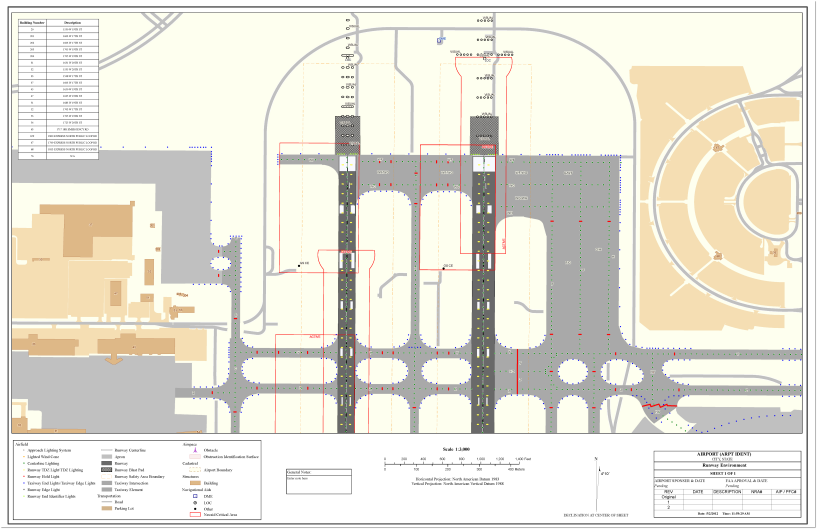 All of the map templates are based off the airports data model and contain the relevant layers with symbology and labeling configured for each. The templates can be used "as-is" or customized to meet a particular organization's requirements.
Export to Shapefile
With the 10.1 release of ArcGIS for Aviation: Airports, a new geoprocessing tool, Export FAA 18B to Shapefile , is now available. This tool enables you to automatically convert and package your airports geodatabase into a FAA compliant format for submission to the FAA Airports GIS program.
Currently, shapefiles are the only Esri format acceptable for uploading data to the FAA Airports GIS website, a geodatabase is not acceptable. One thing to consider about shapefiles is the a ten character limit on field names. The FAA Airports GIS schema has numerous attributes that exceed the ten character limit. In order to successfully create the shapefiles from the Airports GIS geodatabase, those attribute names greater than ten characters must be truncated as detailed in Appendix D of Advisory Circular 150/5300-18B.
As an example, the description attribute is common throughout the FAA Airports GIS schema. If you were to export a feature class to shapefile, by default, that attribute would be named feat_desc when exported to shapefile. However, Appendix D indicates this attribute must be named descript when submitting to the FAA. The Export FAA 18B to Shapefile tool automatically truncates this attribute field name, along with all of the others detailed in Appendix D, to comply with the specified naming conventions. Using this tool you have the ability to select individual or multiple feature classes to export to shapefile.
Although developed to meet FAA Airports GIS naming conventions, this tool can be utilized by any airport data model user to export shapefiles for sharing or collaboration on platforms such as ArcGIS Online.